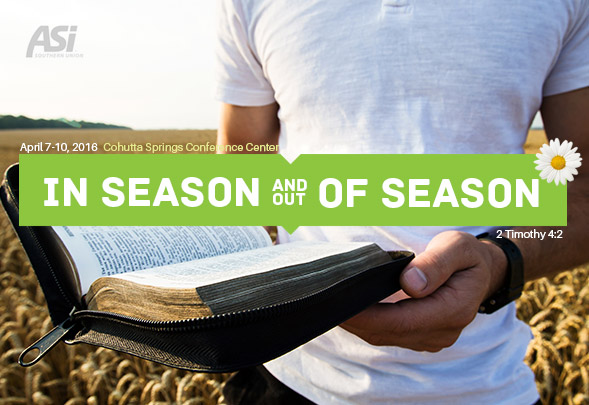 Dates
April 7-10, 2016
Theme
In Season and Out of Season (2 Tim 4:2)
Registration begins at 4:00 pm at the Cohutta Lobby and the first meeting is with the main speaker – Ty Gibson and his first speaking appointment is at 7:00 pm on Thursday.
We will have mini-concerts, testimonies, great break-out sessions, round table topics, recreation, panel discussions and spiritual enrichment.
Please note that everything isn't over until Sunday at 2 pm with a Family Fun day, outreach and evangelistic effort with all ASI members involved.
Location
Registration for the ASI Convention does not include lodging. Lodging reservations must be made directly by telephone with Cohutta Springs Conference Center. No online reservations are available.
Cohutta Springs Conference Center
1175 Cohutta Springs Rd
Crandall, GA 30744
(706) 695-9093 or (800) 940-6789
You may also contact Elaine Cash directly for your reservations:
(706) 422-4106
Speakers
Speakers at this year's conference include:
Ty Gibson